The arrival of old age is a stage full of new learning. However, it also implies some care for the physical and mental health of older adults. In this context, retirement villages are an innovative model of senior living, offering comfort, services, and an environment conducive to health promotion.
In these communities, with beautiful facilities in the countryside, residents can age with grace and vitality. Plus, they can keep their minds active and stay connected with other older individuals who share their interests and experiences. Keep reading to learn about some of the advantages of these retirement homes for the well-being of older adults.
You might be interested in: Regulating Emotions in Old Age: The Key to Wellbeing
5 benefits of retirement villages for the mental health of older adults
Having the possibility of spending the golden years in an assisted living home in the midst of nature and with what's needed to enjoy the fruits of a life of effort, is a great privilege. Retirement villages stand out for being places designed to promote the integral well-being of older adults, with a particular focus on their mental health.
These are some of the advantages provided by these homes for older adults.
1. Retirement villages encourage communication and socialization
A study published in the Asian Journal of Psychiatry reported that, during old age, there are some serious issues that affect mental health. These include issues like abandonment, loneliness, isolation, depression, and anxiety, conditions that can cause individuals to stop socializing with others and not receive the care they need.
With this in mind, one of the main advantages of retirement villages is the opportunity to live in an environment where the community is the center of attention. Residents share life experiences, interests, and activities, which reduces feelings of loneliness and depression, two common psychological challenges in old age.
2. They carry out recreational and cultural activities
Seniors living in retirement villages have the opportunity to participate in a variety of activities to help maintain their mental health and quality of life. All residents aim to socialize and develop an interest in new experiences.
Some of these activities include artistic workshops, such as classes in painting, sculpture, ceramics, photography, and other forms of artistic expression that allow residents to explore their creative side.
One study in Evidence Based Care suggested that painting allows seniors to experience greater happiness. This can help older adults improve their mood, decrease aggression, and have a hobby to let their imagination run wild and have a good time with their neighbors or peers.
In addition, dance classes, reading groups, cooking classes, and craft workshops are popular activities in retirement homes that provide a means of expression, concentration, relaxation, and a sense of accomplishment.
3. Reduce the stress of daily tasks
One of the great benefits of retirement villages is perceived in the mental health of older adults, as they're places created to minimize daily worries. Calm and relaxing environments promote healthy and serene aging.
Another of the most notable advantages is the liberation from household maintenance and cleaning chores. Residents don't have to worry about household chores, such as mowing the lawn, repairs, or deep cleaning. This elimination of responsibilities reduces stress and allows more time for hobbies.
On the other hand, retirement homes have security systems and security personnel that provide a protected environment. They also have 24/7 medical staff to ensure that residents have access to professional care in the event of an emergency or if they need daily assistance.
4. Provide access to support services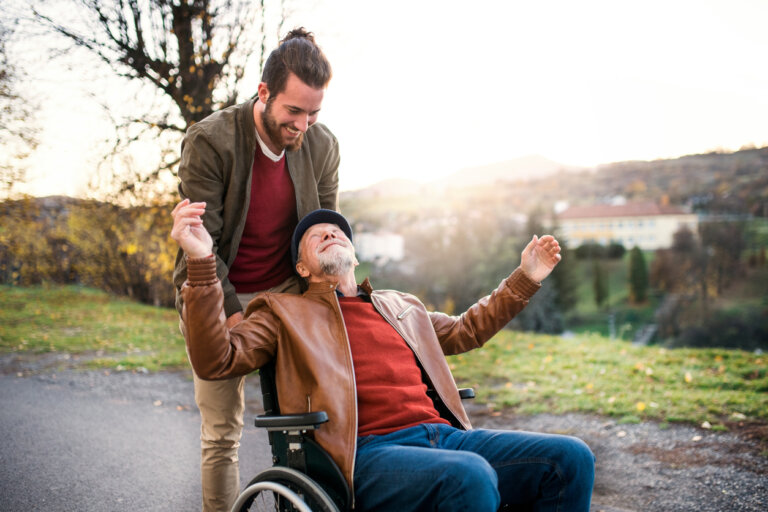 Aging can bring with it emotional challenges and changes in mental health. Retirement villages often have counseling and psychological support services to help residents cope with these transitions. Therapists and counselors create a safe space to discuss concerns and develop coping strategies.
The presence of mental health professionals within the community ensures that residents' medical and emotional needs are efficiently addressed. This provides comprehensive support that contributes to maintaining a positive mental state.
In addition, some retirement homes implement cognitive stimulation programs to keep seniors' minds active and sharp. These activities may include memory exercises, puzzles, and games that promote brain health and prevent brain deterioration.
Continue reading: Why Some People Have Trouble Coping With Aging
5. Promote participation in community decisions
Having a say in the decisions made at retirement villages gives residents a renewed sense of purpose and relevance in their lives. Contributing to the planning and organization of events and policies elicits feelings of meaningful contribution and empowerment.
Making decisions together with other residents promotes interaction and collaboration among older adults. Similarly, working on projects and activities creates the opportunity to develop deeper relationships, which combats isolation and loneliness.
Retirement villages are safe and dignified places to grow old
Country retirement homes are challenging the traditional perception of aging with their focus on autonomy, purpose, and engagement for older adults. They're places designed for people who want to spend their golden years full of vitality, learning, and personal growth.
In a world where aging is often seen as a burden, these communities demonstrate that aging with grace and dignity is an achievable goal, and that each individual deserves a space where their holistic well-being is paramount.
The post Retirement Villages Promote Mental Health Among Older Adults appeared first on Exploring your mind.