Consuming porn is normal in many societies. This tends to detract from the fact that it could have a possible impact on our mental health, according to psychology. However, for a long time, everything related to sexuality has tended to be a taboo subject.
Recently, an investigation was published that studied why porn is often used as an escape route from boredom. Taking the study's conclusions as a reference, we'll try to answer a couple of questions. Firstly, what role does a lack of meaning or boredom play in the consumption of pornography? Secondly, is porn consumed merely to avoid boredom or to seek thrills and sexual pleasure?
The psychology behind porn: personality and individual differences
Porn consumers vary according to their individual differences. These are the characteristics that differentiate one person from another. For example, temperament, intelligence, or gender. Here are some of the characteristics of porn users.
Dark triad traits. Individuals who are cold, arrogant, and with a lack of remorse. They often exhibit Machiavellian behavior.
Orientation to shorter-term relationships.
The specific way in which they view relationships.
The story of their life.
Porn is consumed for many reasons. The study authors mention increased sex drive, the desire to improve performance, social reasons, or a lack of social or emotional skills. They also claim that watching porn can be considered a hedonic recreational behavior.
During the COVID-19 pandemic, internet searches for material of this type skyrocketed. This was more apparent in countries where lockdowns were imposed and people couldn't leave their homes. Understandably, the feelings of boredom, combined with the anxiety and uncertainty derived from a situation with such important restrictions, were remarkable.
Boredom
Boredom is an unpleasant and everyday experience. However, it doesn't occur because we have a great deal of free time. It's simply that when we have free time, we don't know what to do with it. Therefore a definition of boredom might suggest difficulty in focusing attention on something specific.
Boredom is also a symptom of a lack of meaning in life. It produces restlessness, disinterest, and a lack of purpose. Boredom isn't synonymous with feeling relaxed. On the contrary, when we're bored we tend to be more impulsive. For instance, we might engage in unhealthy eating behaviors or buy things that we don't really need.
The existential escape hypothesis
Under the threat of boredom, we notice differences between the 'current me' (bored me) and the 'ideal me' (the one we'd like to be).
"People seek to escape the perceived meaninglessness of existential threats through hedonic behaviors. Such goals can be met by using pornography as a means of arousal, pleasure, and sensation."

-Grubbs, 2019-
When we experience these discrepancies we become involved in escapist behaviors. They're usually hedonic and pleasurable behaviors. One example of pleasure-seeking behavior by people in the face of boredom may be increased sexual desire.
Some research supports that heterosexual and bisexual men's interest in sex without commitment works as an escape route from their boredom. In these instances, men with lower levels of perceived meaning also reported a higher frequency of boredom in their lives.
Using pornography as a coping mechanism
The consumption of pornography seems to frequently be used as a strategy to escape from the worries and stress of everyday life, and even to combat emotional pain. Here, the consumption of pornography can be the lever that the individual seeks to disconnect from reality and seek quick, though short-lived, relief from emotional distress. There are two types of mechanisms in relation to sex and pornography:
The use of pornography as a means of emotional avoidance. To placate boredom and pain. It tends to be psychological in nature.
The use of pornography as a means of seeking sexual excitement and pleasure. This is more physiological in nature and related to activation and stimulation.
When individuals use these types of strategies, they often increase their sensation-seeking behaviors and instances of casual, uncommitted sex. Furthermore, the failure to achieve the development of healthy life goals is an essential factor in the development of boredom.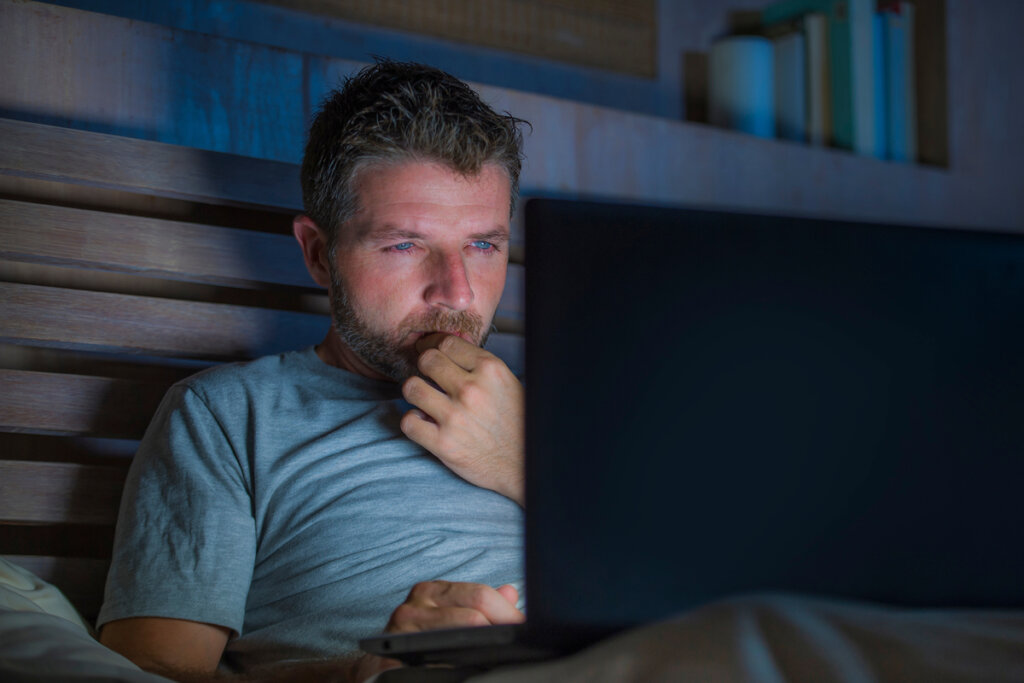 How much porn do we watch?
Researchers measured how often participants consumed porn. The results were surprising. People who spent the longest time looking at porn reported doing so to avoid uncomfortable emotions.
Thus, it can be presumed that when we feel a lack of meaning in our lives, sexual excitement and pleasure-seeking behaviors are increased. Consequently, there's a greater use of porn. Several conclusions can be drawn from the amount of porn an individual consumes:
The level of boredom they feel. This indicates a lack of meaning in their lives.
Their need to use porn as a distraction. It's a coping mechanism for this unpleasant existential state.
Their lack of perceived meaning. It increases sexual excitement and pleasure-seeking behaviors.
Emotional avoidance. Painful emotions can be reduced through hedonic behaviors.
Self-esteem. Low self-esteem could be a risk factor for addressing the existential threat of meaninglessness in life by excessive porn consumption.
It's also been found that, as the years go by, we experience boredom less frequently. In addition, it seems that coping strategies in response to the discomfort that the feeling of existential emptiness can produce are optimized with the accumulation of experience.
Finally, we should mention that excessive consumption of porn can lead to addiction, causing physical and mental problems. In fact, thanks to new technologies, its incidence in the population have increased. If you think you may be suffering from an addiction to porn, don't hesitate to contact a trusted professional.
The post The Use of Porn to Escape Feelings of Boredom or Meaninglessness appeared first on Exploring your mind.