It seems that people with attention deficit hyperactivity disorder (ADHD) are more likely to develop cyber addictions involving computers, video games, and the Internet. In fact, an association has been found between internet addiction and ADHD. What's more, people with these kinds of addictions exhibit more severe symptoms of ADHD.
The connection between the excessive use of video games and the symptoms of attention deficit hyperactivity disorder is observed in child and adolescent populations (Wan et al., 2006). However, the relationship isn't yet clear.
In this article, we'll review the research on the association between ADHD and video games.
The relationship between ADHD and video games
There are several investigations that have studied the link between video games and ADHD in children and adolescents. They've mainly focused on trying to estimate the probability that children who play excessively with their consoles will develop addictive symptoms.
A study demonstrated that children with ADHD are more vulnerable to developing addictive behaviors to video games. The researchers also found a positive correlation between the severity of ADHD symptoms and excessive video game use. In fact, children with severe ADHD show significantly higher scores compared to children without ADHD.
The time that children with and without ADHD spend on video games is rather alarming. In fact, one study found that more than half of children with and without this disorder spend in excess of two hours a day playing video games. However, only those with ADHD play compulsively.
Further research suggests that people who exhibit more severe symptoms of ADHD have a higher risk of developing symptoms of video game addiction and suffering from its negative consequences.
Despite this negative association, it's not all bad news. In fact, one study found that video games can be a useful tool for the diagnosis and treatment of ADHD. It's also been noted that playing video games can improve:
Spatial visualization ability.
Social and linguistic skills.
Math skills.
Reading abilities.
In summary, ADHD and video games have a bidirectional relationship. Therefore, ADHD symptoms make video games attractive, while the game itself exacerbates ADHD symptoms (Masi et al., 2021).
Why are people with ADHD more attracted to video games?
Children with ADHD have difficulty concentrating. For this reason, they may find refuge in the world of video games. Constant light flashing and sound effects work as anchors to capture their attention.
In effect, the game becomes a form of respite and a refuge that sufferers of ADHD don't want to leave. With this activity, they 'self-medicate' by way of the discharge of dopamine.
Warning signs about the dysfunctional use of video games
Some warning signs that video game use may be problematic include:
They lose track of time.
Other activities cease to have value as reinforcers. In fact, the pleasure that they can produce in the person, compared to that produced by video games, is insignificant.
They lie about the game, especially about the length of time they've been playing or the activities they've ignored in order to play.
They exhibit withdrawal symptoms shortly after stopping the game.
It's pretty much their only topic of conversation.
To establish a functional plan for the use of video games, keep in mind the following:
Set a time to play.
Maintain plans that are incompatible with constant playing.
Make sure they share time with friends, but not virtual ones.
Request professional help.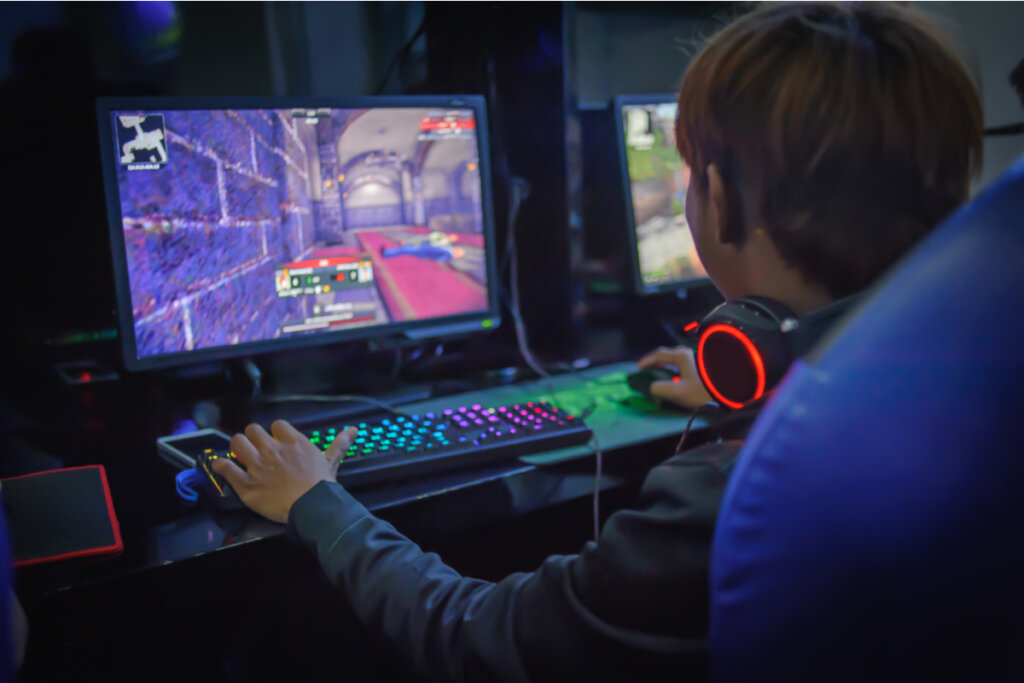 Can video games help children With ADHD?
Video games don't represent a risk in themselves for the mental health of children. In fact, they can have certain benefits. Indeed, research has found that children who play video games seem to be able to switch tasks more quickly. This can be really helpful for children with ADHD who have difficulty transitioning from one activity to another.
In a review of the effects of video games, it was found that they can:
Be a valid medium for learning.
Help develop social skills.
The researchers who conducted this review also found that video games can help:
Improve memory, spatial navigation, reasoning, and perception.
Develop problem-solving skills.
Increase creativity.
Improve mood.
Serve as an escape route for tension and worries.
Act as a training scenario for frustration management.
Promote leadership, organization, and cooperation skills.
Improve communication and decision-making skills.
Therefore, it appears that video games can have positive effects on children's health. However, they still pose a risk when their use isn't moderated.
To conclude, we can state that the association between ADHD and video games can be positive or negative, depending on the parameters in which it occurs. It depends on the time and the use made of this type of entertainment. That's why it's important for parents of children and adolescents with ADHD to supervise and moderate the time their children spend playing video games.
Although an association between both variables has been recorded, we can't say that one causes the other. In other words, we can't claim that children who play video games frequently develop ADHD or that ADHD causes addiction to video games. We can only speak of correlations, not causalities. Therefore, it's best to be cautious and not make the claim that ADHD causes video game addictions.
The post The Link Between ADHD and Video Games appeared first on Exploring your mind.