The Goldwater Rule is an ethical statement that was issued in 1972 by the American Psychiatric Association (APA). It stipulates that the mental state of others shouldn't be speculated on without proper evaluation. This mainly affects public figures, to whom it's common to arbitrarily attribute various disorders or clinical problems without evidence. Indeed, this is a frequent phenomenon both in the public and private spheres. For example, it happened a few years ago when Donald Trump became president and speculation began about certain possible disorders he might've been suffering from. Furthermore, these speculative reports continued throughout his term of office.
It's also happened with Vladimir Putin and Kim Jong-Un. They've been pronounced as suffering from autistic spectrum disorders, narcissistic personality disorders, and even psychopathic illnesses. In fact, arbitrary terms are frequently used on public (and controversial) figures, and, it seems, the more sensational the better. Along the same lines, hypotheses tend to be put forward when a well-known person commits suicide. However, the truth is that very few know the real circumstances of these individuals. Indeed, most of us are completely oblivious to their complexities, histories, and peculiarities. Because we're only in charge of our own lives and psychological singularities. Therefore, absolutely no one should be making judgments from positions of ignorance and distance.
Let's take a closer look at this topic.
We've become accustomed to constantly making judgments about others. However, doing so concerning their mental health is a form of violation of their rights and integrity.
The Goldwater Rule
The Goldwater Rule was implemented with the intention of prohibiting psychiatrists and psychologists from diagnosing people they hadn't personally evaluated. This rule, which was made in the 1970s, became even more important in 2017 when Donald Trump became president of the United States.
Suddenly, articles began to be published about his mental health. Psychology professionals were interviewed by the media to try and define what was behind the president's behavior. However, the APA Ethics Committee reminded its entire community that it was wrong to speculatively diagnose public figures.
In every random speculation, where there's no prior evaluation of the individual, prejudice is often apparent. Moreover, with these unscientific and rigorous comments, there's also a tendency to stigmatize many mental disorders. For instance, figures such as Diana, Princess of Wales, and, more recently, Robin Williams were the constant objects of this type of speculation.
The origins of the Goldwater Rule
Emory University (USA) and the University of Melbourne (Australia) conducted research that highlighted the history and significance of the Goldwater Rule. It dates back to 1964, when Arizona Senator, Barry Goldwater, a Republican candidate, ran to oust then-President of the United States, Lyndon B. Johnson.
Goldwater didn't succeed. His ideas on tax issues weren't popular. Nor was his aggressive attitude against the USSR. However, the factor that completely brought down his political career was an article in which 1,189 psychiatrists gave their opinion about his mental health. They declared him unfit for the office of president.
As a matter of fact, this group of psychiatrists claimed that he was a leader whose way of thinking was reminiscent of Hitler, Castro, and Stalin. They also stated that he possessed sadistic ideas and was unconsciously hostile. They put their thoughts forward in a publication. Nevertheless, none of them had evaluated Barry Goldwater. Unsurprisingly, the magazine was sued for defamation. They were sentenced to pay a $75,000 fine, and the American Psychiatric Association (APA) was forced to implement the Goldwater Rule to ban such speculative diagnoses.
Barry Goldwater was a senator who lost his race for the presidency as a result of a published article in which more than 1,189 psychiatrists gave unsubstantiated opinions about his mental health. In fact, they made claims that he was a mass murderer at heart and that he both hated and feared his wife.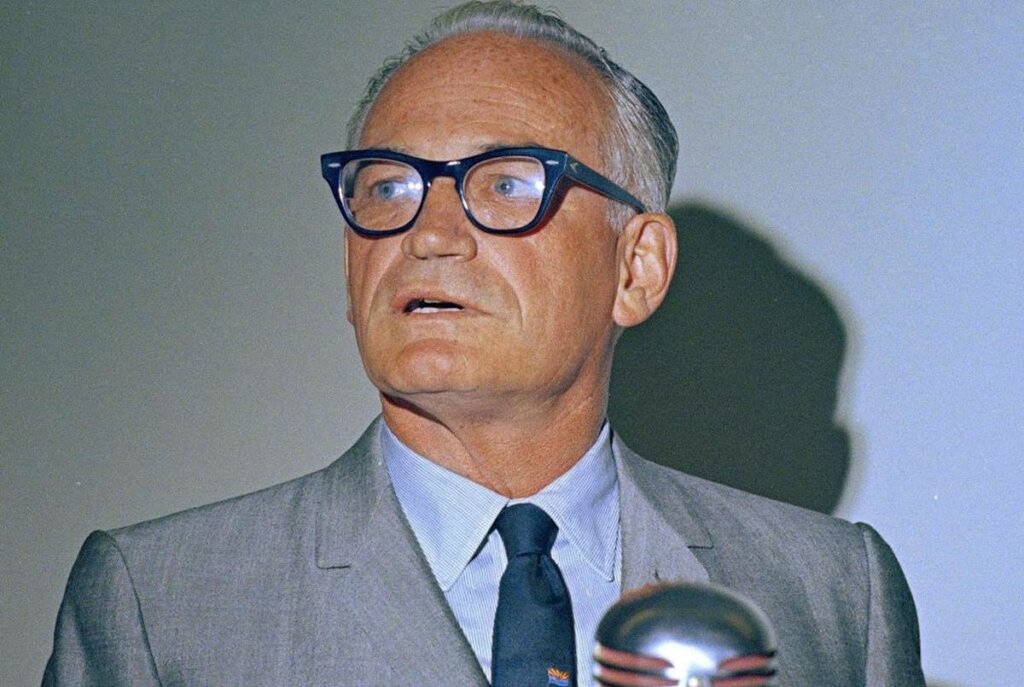 A rule and ethical principle to debate
The Goldwater Rule protects us all, not just public figures. Nobody has the right to speculate about our mental health or try to find a label that explains why we behave the way we do. Although it's true that we live in a time when much more is being said about psychological problems, there are appropriate and inappropriate ways of doing so.
Unfortunately, it's often all too easy to fall into the trap of this kind of harmful prejudice. For example, we normalize clinical realities such as depression or anxiety but continue to associate these disorders with inappropriate behaviors and attitudes. We say things like "He's weak". "He just can't deal with life". He's just like his mother, she couldn't cope either".
We also continue to reinforce negative biases about conditions such as schizophrenia or borderline personality disorder. We tend to label sufferers as problematic and even dangerous, without understanding the complexity of these realities. As a matter of fact, we all think and speak without knowing the truth. We speculate on others in an arbitrary and also inhuman way, without respect or sensitivity.
Finally, it's clear that the Goldwater Rule isn't only relevant for psychologists and psychiatrists. Indeed, we must all stop commenting and speculating about the mental health of others without knowing the truth. At the end of the day, it's all down to respect and ethics.
The post The Goldwater Rule: Don't Speculate on Others' Mental Health appeared first on Exploring your mind.