Emergency services are often faced with situations that they don't know how to deal with. For instance, some people arrive having suffered seizures similar to epileptic incidents. However, medical tests don't uncover any neurological origin. There are also those who suffer momentary blindness, loss of voice, or temporary immobility of a limb.
These extraordinary symptoms might last anywhere between a few hours and a couple of weeks. Moreover, as quickly as they come, they tend to disappear. That said, it's extremely likely that those who suffer from these incidences will experience them more than once. In fact, psychogenic dysfunction, although it's rare (affecting around two in every 100,000 people), is usually behind these kinds of overwhelmingly stressful events.
The problem is that those who suffer from these types of conditions feel misunderstood. Their environment may think that they've invented their symptoms to attract attention to themselves or that they have an ulterior motive. For example, it may appear rather suspicious that a teen finds themselves unable to speak when Monday arrives and they have to go back to school.
However, in all cases, someone who seems to be in pain or who suffers a sudden physical limitation should be listened to. After all, not everyone is prone to theatrics and inventing stories. Human suffering will always find certain channels to demonstrate specific problems. Sometimes, these can be the most adverse kind.
A comprehensive neurological evaluation allows certain medical problems to be ruled out. Often, it results in the diagnosis of a psychological condition.
Psychogenic neurological symptoms
Psychogenic neurological symptoms are conditions that present with neurological manifestations but have a psychological origin. At present, they're known as conversion disorder or dissociative disorder.
In the 19th century, Sigmund Freud labeled these conditions as 'hysteria'. He defined them as situations in which the sufferer demonstrates unresolved internal conflict.
Today, there's a better understanding of these types of disorders. The first fact to bear in mind is that they're not voluntary or conscious acts. Indeed, those who claim to have crippling pain in their hands or suffer sudden seizures (where there's no clear neurological condition) aren't generally doing it for attention.
A study conducted by Ludwig Maximilians University, in Munich (Germany), confirms that these events aren't as infrequent as we might imagine. In fact, out of 4,470 patients with neurological problems seen in the emergency room at a hospital, 405 (nine percent) were found to have psychogenic dysfunction. In other words, the trigger for their symptoms was mental.
Let's find out some more about this often unknown clinical reality.
Neurological psychogenic symptoms are the result of present stressors and past traumatic events.
A patient with tetraplegia and speech problems
The University of Melbourne and King's College, London (UK) studied the striking case of a 23-year-old woman of South Asian origin who lived in Melbourne. The psychogenic neurological symptoms that she demonstrated on arrival at the emergency room couldn't have been more extraordinary. At one moment she exhibited quadriplegia and the next, intermittent mutism.
After a complete neurological study, she was diagnosed with conversion disorder and referred to psychological therapy. When she began working with psychologists, she no longer showed any symptoms. She only claimed to experience some tension in her jaw. As the therapy progressed, the stressful situation to which she had been subjected became clear.
As a matter of fact, this young woman could barely remember her past and her present was dominated by a deep identity crisis along with family and partner pressures. In effect, her neurological psychogenic symptoms were the response to unaddressed trauma and a life that was out of tune with her needs.
The manifestation of psychogenic neurological
Psychogenic or conversion disorders appear in many ways. The most obvious particularity is that these manifestations are extremely conspicuous and, as a rule, they have a neurological origin. They're as follows:
Problems with coordination and balance.
Sudden paralysis in any area of the body. It's common to feel problems walking, moving, etc.
Swallowing problems.
Loss of voice.
Blackouts.
Epilepsy-like seizures.
Double vision.
Hearing changes.
Loss of sense of touch.
Urinary incontinence problems.
The origin
Psychogenic neurological symptoms always appear suddenly. They're also of short duration, ranging from a few hours to a maximum of two weeks.
In all cases, it's of paramount importance to rule out a neurological origin. Indeed, whenever a professional makes a diagnosis of psychogenic or conversion disorder, they must clarify the causes.
As a rule, the trigger for psychogenic disorders is psychological trauma. Also, a stressful life can lead to these conditions.
Personality disorders, such as avoidant disorder or borderline personality disorder (BPD) can also be triggers.
The symptoms appear to a greater degree in women with a family history of conversion disorders.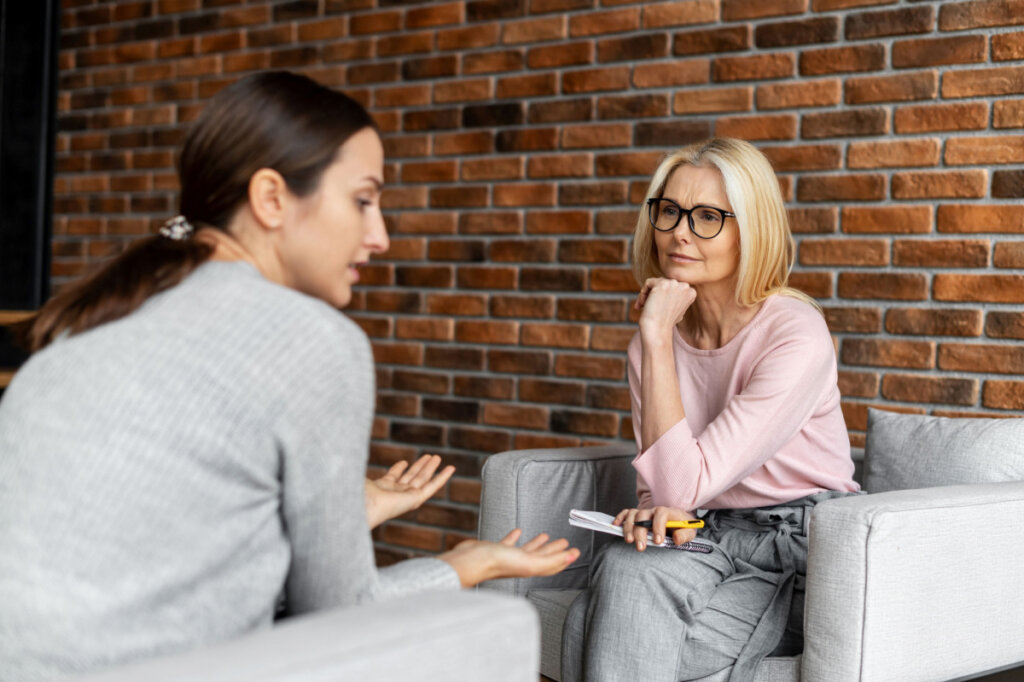 The most appropriate treatment
People with psychogenic symptoms often have to deal with misunderstandings from their environment. For example, there have been cases of marines needing wheelchairs because their legs felt paralyzed. However, they were capable of walking backward. The arbitrariness of these psychogenic neurological manifestations is extremely great, which can mean the sufferer is doubted.
These patients need understanding and validation of their feelings. If their reality is denied, their suffering and, in the short term, their symptoms will increase. There must be a framework of absolute understanding with regard to each feeling of pain, physical limitation, or expressed problem.
Consequently, the therapeutic approach will be multidisciplinary:
Psychological therapy is essential. For example, cognitive-behavioral approaches or EMDR therapy if trauma is present.
Physical therapy is also helpful. It allows the sufferer to maximize physical functioning and prevent further problems. It also favors the much-needed mind-body harmony interaction.
Medical attention is essential for the possible administration of psychoactive drugs and other treatments.
Finally, it's useful for sufferers to understand that behind their limiting physical symptoms lies an emotional trigger that must be treated. By understanding what's happening to them, their anguish is mitigated. This encourages them to commit to psychological therapy.
The post Psychogenic Neurological Symptoms appeared first on Exploring your mind.