There's been little psychological research regarding the impact of miscarriage on a couple. As a matter of fact, until not long ago, the psychological effects of this situation were completely ignored. Furthermore, the subject of spontaneous abortion has been surrounded by cruel myths. These usually border on macho ideas and alleged divine mandates which have little or nothing to do with the psychological impact of miscarriage.
In many countries, the issue of miscarriage can't be addressed without suspicion and threats of imprisonment. For example, in countries like El Salvador, having a miscarriage can raise many suspicions around its 'spontaneity'. These suspicions can translate into 40 years in prison, an experience that scars the woman, her partner, and her family for life.
Spontaneous abortion
Miscarriage is the common term to refer to an aborted pregnancy before 20 weeks of gestation. It includes ectopic pregnancy and blighted ovum, as well as incomplete abortion, and failed attempts at in vitro fertilization.
Quantifying pregnancy loss from miscarriage is difficult. However, it's estimated that up to one in four pregnancies may end in miscarriage. This figure doesn't account for those that occur before the woman realizes that she's pregnant.
As a matter of fact, it could be that the real rate of pregnancy loss due to miscarriage is as high as fifty percent. It's estimated that around three-quarters of spontaneous abortions occur in the first 12 weeks.
As we can see, miscarriage is common. Nevertheless, for the parents, it's an extremely personal and emotional experience.
In fact, miscarriage can cause a woman to suffer the most acute sadness she's ever experienced. This is one of the least recognized effects of pregnancy loss. The other is the grief response associated with voluntary termination for medical or personal reasons.
Because miscarriage usually occurs very early in pregnancy, it's common for others to believe that the sensation of loss is minimal. In other words, proportional to the duration of the pregnancy.
For this reason, as a rule, the impact of miscarriage tends to be underestimated, except by those who've experienced it.
The stigma toward the word 'abortion'
The recognized medical term 'abortion' isn't usually used with patients. That's because this word tends to be associated with a voluntary decision.
Indeed, the word abortion is often seen as taboo. That's due to the desire to not blame the woman for the loss and to free her from all suspicion. However, this infantilizes us as a society and imposes a patriarchal treatment. Nevertheless, terms such as 'spontaneous' or 'involuntary abortion' tend to be discarded in favor of the term, 'miscarriage'. 
Different pain for women and men
Tension and conflict can arise in the parental relationship after pregnancy loss. This is due to the different degrees of attachment between men and women. For example, emotional attachment for the father tends to be slower than that for the mother. Furthermore, the mother usually experiences a greater degree of grief that lasts longer due to their deeper feelings of attachment.
In 1982, Friedman and Gradstein in their book, Surviving Pregnancy Loss, reported that women were more likely to view a miscarriage as the loss of a person. On the other hand, men tended to perceive it as a sad event, but not a death. Nevertheless, this doesn't necessarily mean that all parents interpret it in the same way.
In fact, many fathers speak of their lost children in extremely personal terms. Although this could be due to the fact that their grieving style may be different from that of the mother. In fact, they may choose not to show their pain as they don't want to add to the grief of their partner.
Peppers and Knapp (1982) in their book, Motherhood and Mourning, suggest that society's expectations for men are to remain strong and repress their emotions. On the contrary, women are expected to express their sadness and grief.
As a matter of fact, all too often, men rush into work to take their minds off their own pain and avoid feelings of helplessness in the face of their partner's grief. For some women, this apparent lack of grief can lead to feelings of isolation and bitterness. This often culminates in relationship problems.
When miscarriage is recurrent
Recurrent miscarriage is a rare condition. It's considered to be a traumatic event for couples. In fact, symptoms of depression, anxiety, and low self-esteem have been described after recurrent miscarriages. However, little is known about their impact on the couple's sexuality and the gender differences in attitudes toward grief and mourning.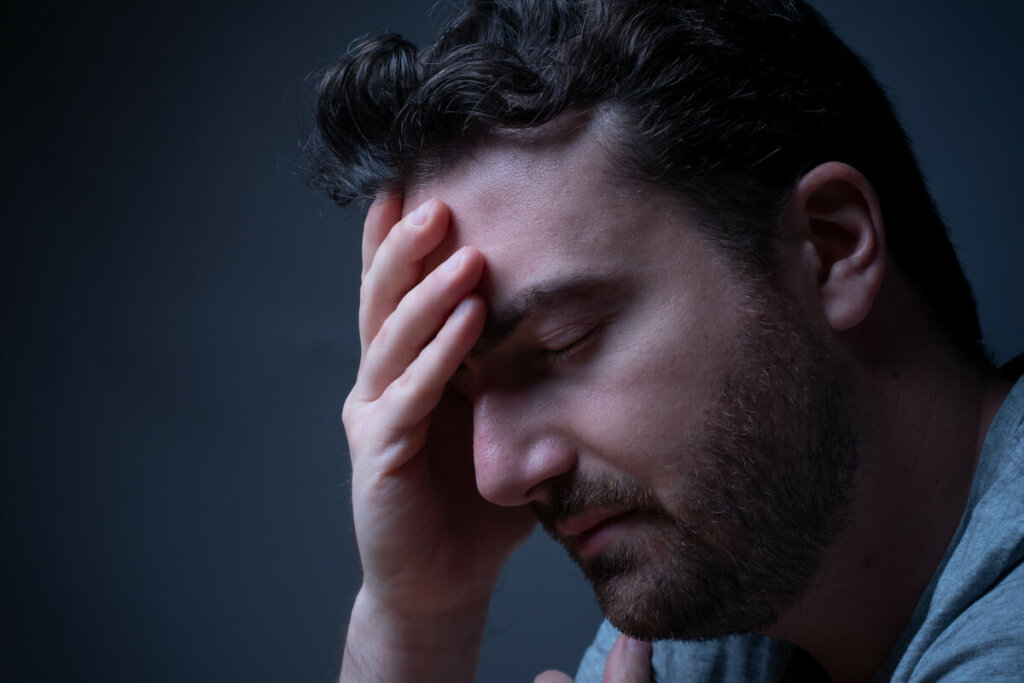 The importance of psychological care
Although studies document lower rates of post-traumatic stress, anxiety, and depressive symptoms in men, some couples may benefit from support and interventions to reduce their symptoms of depression and anxiety.
Studies demonstrate that men grieve, but less intensely than women. When the level of support from the husband is evident, women generally improve and their level of depression decreases (Madden, 1986, cited in Witzel 1991). This is also the case when they receive active support from friends and family. On the other hand, many men lack these supports and grieve in isolation, becoming depressed.
Some men may feel left out when their partner miscarries. This is because the woman has experienced the physical loss of the baby and others often think of her needs first. In addition, men may not want to express their feelings in front of other people and might feel powerless and unable to comfort their partner.
Therefore, it's important that psychological care is provided to the couple, both individually and together. It should be conducted by a specialized psychologist. They can explain the stages of mourning and loss to help the couple face the miscarriage and perhaps prepare for a new pregnancy.
It's the wish of any parent for their baby to be healthy but perinatal death is a reality and complications during pregnancy may lead to it.
Read more »
The post The Psychological Impact of Miscarriage on a Couple appeared first on Exploring your mind.