They say that love is like a cough because it can't be hidden. Indeed, there are really noticeable signs of falling out of love. However, sometimes you don't see them or maybe you don't want to see them. Either way, they suggest a critical point in your relationship.
The signs of falling out of love generally concern a loss of vitality in your relationship. This manifests itself in many ways, ranging from barriers in communication to an evident lack of interest in each other. Occasionally, infidelity also appears.
When you recognize some of the signs that you're falling out of love, this is a signal that you should stop and think. Sometimes, this pause will allow you to get back on track. However, at other times it simply helps to confirm that your relationship's over. Next, we'll talk about some of these signs.
"We should love, not fall in love, because everything that falls, gets broken."

-Taylor Swift-
1. Lack of interest in seeing each other
When you're in love, you long for that moment when you can meet your loved one. Furthermore, when you do see them, you're full of enthusiasm. This is reflected in your attitude, your smile, and your motivation to talk to them and share activities together.
One of the signs of falling out of love appears when your meetings become more sporadic as you lose interest in your partner. For instance, you might not bother to show up on time and, when you do, you're more subdued. These could be indicators that your partner no longer arouses any feelings in you. They certainly no longer inspire you.
2. A decrease in shared interests
As your love erodes, so do the things you have in common. When you're in love, you usually have a shared agenda, as well as your own. In fact, in a healthy relationship, you'll regularly update your joint plans, whether they be short, medium, or long-term.
When your love weakens, your joint agenda reduces in size. You may also fail to comply with what's already planned. Consequently, your time alone increases, and your time together decreases.
3. Reduced expressions of affection
This is one of the most important warning signs. In the early stages of your relationship, you probably expressed your love to your partner with affectionate gestures. You gave them a lot of attention that was motivated by your interest in them.
When your love dwindles, this is reflected in the reduction and lack of these kinds of expressions. Of course, in any relationship, they decrease as the relationship progresses. However, when demonstrations of affection begin to be the exception rather than the rule, it suggests the feelings are no longer strong.
4. Routine communication
When you want to keep your relationship alive, you talk to each other frequently. In fact, you're really interested in getting to know them, and what they think, etc. It seems as if you could talk forever.
As your feelings fade, predictability sets in. Consequently, your interest in communicating with them decreases and it's replaced by merely routine exchanges of messages.
5. Lack of sexual desire
In a couple, sex is much more than an expression of physical pleasure. Sexuality nurtures intimacy and strengthens communication, trust, and mutual love. Research suggests that, over time, while passion decreases, feelings of complicity increase. Nevertheless, this doesn't necessarily mean that sexuality is impoverished.
As a matter of fact, if you love each other, sexuality might become more relaxed and less frenzied, but both of you are still interested in each other. Therefore, if your desire disappears, it's probably because your love is also running out. Indeed, sex largely reflects the condition of the relationship of a couple.
6. Symptoms of infidelity
Another of the signs of falling out of love has to do with the exclusive commitment that usually prevails in most couples. Although it doesn't mean that one of you has to have an affair for it to appear.
What usually happens is that, with increasing frequency or intensity, one of you, or both, starts to be attracted to other people. While you might not do anything to feed those interests, you're starting to think of others in romantic terms.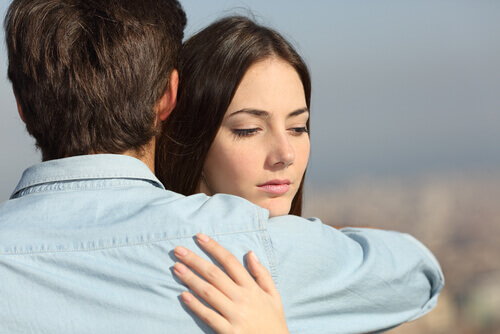 7. Little concern for personal appearance
One of the ways in which eroticism is manifested in your relationship is through the care you take of yourself. That's because you want to be attractive to your partner. Therefore, you tend to pay careful attention to your appearance when you're with them. For instance, you might wear perfume and try to dress immaculately.
However, when love begins to disappear, your interest in attracting your partner also tends to evaporate. For this reason, you might find yourself not really bothering, even on special occasions when you'd normally make an effort.
Nevertheless, these signs of falling out of love don't necessarily mean the prelude to the end of your relationship. Sometimes, they simply signal the need for a break. On other occasions, they might be a wake-up call, a warning signal that you need to change course.
Falling out of love is what happens when we realize that our partner is different from what we had thought. Learn more with us!
Read more »
The post Seven Signs That You're Falling Out of Love appeared first on Exploring your mind.