Although some people might differ, sex is a very personal, intimate act that connects two or more people into one for the moment being. Healthy sexual relationships are those based on affection, respect, and passion. There's no single way to have sex, as everyone has different rhythms and techniques. What works for one person may not work for another. However, we can always turn to some fun ideas to enjoy the act even more. In this article, we'll be focusing on female masturbation: how to masturbate a woman step by step.
Again, there isn't a single way to do this. After all, sex is based on imagination and adventure, which means it has no limits. Nonetheless, we'll be proposing a possible way to please your sexual partner. These practical ideas will guide you in female masturbation, although you can try any adaptation or change.
How to masturbate a woman step by step
We'll give you a series of steps on how to masturbate a woman and make her enjoy it. Remember that the purpose here isn't just that she reaches orgasm, but rather to make her enjoy every single thing leading up to that point, while still enjoying yourself, of course.
Go slow
When it comes to masturbating a woman and making her enjoy it, it's really important to go slow. What we mean by this is that you shouldn't go "straight to the point", that is, straight to the clitoris. Keep in mind that the clitoris has more than 8,000 nerve endings, so starting in this area would "burn out" the entire previous arousal process.
Try to start with another type of approach to your sexual partner: kisses, caresses, a sensual massage, etc. Create a special moment and make your partner feel comfortable. You can use music, relaxing scents, low lights, and aphrodisiacs, among other things. Just make sure your partner is into it.
Gently stimulate the clitoris
If you want to learn how to masturbate a woman, you can't forget about the importance of the clitoris in this process. When the environment is already prone to a sexual encounter, and you've initiated that first contact, you can stimulate the clitoris very, very gently. Work from the bottom up, starting with the inner thighs. This area has many nerves that will indirectly stimulate the clitoris. Your partner will love it!
Try gently stroking her thighs but without touching her genitals. This way, her mind and body will prepare for the moment of maximum pleasure that will be coming later on.
There are some sex toys, such as vibrators for women, that are ideal for stimulating the inner thighs through gentle vibrations. If you want to use one, make sure to start at a minimum speed and gradually increase it.
Stimulate the lower part of the vulva
Now you're at a point where you've already traveled through your partner's legs and have reached the beginning of their labia majora. It's now time to stimulate the lower part of the vulva. Try moving your fingers in the form of concentric circles and increase the pace little by little (make sure you don't do it too fast).
It's all about gradually increasing the level of intensity and pleasure. This will help you and your partner get more and more turned on. Remember to just follow your partner's rhythm. At the end, it's all about what they like to be done to.
Go a bit deeper
After passing through the lower part of the vulva and the labia majora, pay attention to the labia minora. This is the innermost of the vulva. Try using your fingers, moving up and down the area through gentle strokes.
When you lower your fingers, try to go around the entrance of the vagina. You can repeat this step until you feel that you can move forward from it.
Go back to the clitoris
At this point, you can begin to prepare to stimulate the clitoris in a more direct way. Remember that this is the most sensitive area of ​​the vulva, so it's important not to forget about it. If your sexual partner really enjoys clitoral stimulation, you can make them reach orgasm just by stimulating the clitoris adequately.
You can also try to stimulate the G spot of the clitoris. Try running your fingers in the shape of a circle, squares, or even the entire alphabet.
The longer you spend doing this and the more tactfully you do it, the better. Try to go through the different parts of the clitoris. Remember that this structure has many sensitive areas. Each person likes it in one way or another, so venture to get to know your partner better.
Then, try slightly lifting the cap that "hides" the glans of the clitoris. Try making quick little taps on the clitoris with your fingertips.
Stimulate the G spot
The time has arrived: now you're ready to seek orgasm in your sexual partner. However, it's important that you don't obsess over it. Remember that the most important thing here is the journey leading to it. With clean hands, insert a finger into the entrance of her vagina. You can gradually introduce more than one. Be careful with your nails so you don't hurt them. If you need to/want to, use a lubricant to make it easier for both of you.
Now, when it comes to fingering, you can start with one or two, using the phalanges and gradually going in and out of the vagina. Accompany this whole process with caresses and kisses, as this always increases the level of excitement. Remember that you can combine everything with a sex toy, such as a female or male vibrator.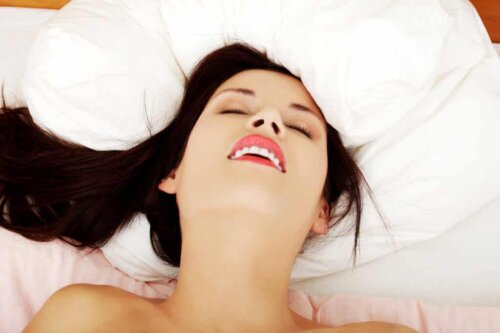 The arrival of the climax
The next step on how to masturbate a woman involves exerting gentle pressure on the front wall of her vagina. At this point, you'll notice a slightly rougher area. This is the G spot, which is closely related to orgasm.
Synchronize the movement of your fingers with her breath since this can be exciting for both of you. Don't stop stimulating this area and you'll see how the orgasm will come, especially if everything has been genuine, exciting, and also if there's a true connection. Don't underestimate the importance of passion and respect here – it's more vital than you may think.
Final thoughts on how to masturbate a woman step by step
These are some ideas on how to masturbate a woman step by step. However, we insist that sex is very variable. You can start with this scheme and gradually innovate. You may even introduce small changes that you both enjoy. The essential thing is to connect with the other person and make her enjoy the process while you also enjoy giving her pleasure. This act isn't supposed to be pleasurable to her only, remember that.
The post How to Masturbate a Woman Step by Step appeared first on Exploring your mind.