When you start to watch the film Happy as Lazzaro, you'll probably think you're watching a film set in a bygone age. However, as it goes on, when you hear some of the subjects being spoken about, you realize you're wrong. Then, suddenly, you grasp the fact that you're watching people who are victims of slavery on a tobacco farm in the 20th century.
The first act of the film takes place in contemporary times. It's inspired by a true story. A marchioness, in the center of Italy, forces the peasants on her land to live in seclusion. For this reason, they don't know that sharecropping has been prohibited. In 1982, the authorities changed the agreements so that workers earned money. However, the marchioness hid this fact from her workers.
The film takes place in a village called Inviolata, which is dedicated to tobacco production. Marchioness Alfonsina de Luna runs a tobacco farm in the village. She exploits the workers who've lived there for generations. Furthermore, she violates their rights and deprives them of any of their freedoms.
Lazzaro, a happy young man full of goodness
The film is named Happy as Lazzaro after the protagonist. Lazzaro is an innocent, kind, and altruistic man. He's a humble servant, who's happy to help without receiving anything in return. Something that couldn't be much further removed from our result-oriented society.
This coincides with the fact that Lazzaro can't change the world. Nor does anyone appreciate his holiness. Perhaps because the collective imagination has traditionally tended to think that a holy person should be strong and charismatic, commanding respect. However, nowadays, we don't associate charisma with holiness.
Lazzaro is a pure character, good through and through. In fact, when you look at him against the backdrop of cutthroat capitalism, he appears even holier. Alice Rohrwacher, the director of Happy as Lazzaro, states that the film is a sad portrait, almost satirical, of the passage from a material Middle Ages to a human Middle Ages.
"If a saint were to appear today with his unsustainable call for another way of existing, if he were to appear in our modern lives, perhaps we wouldn't even recognize him or perhaps we would rid ourselves of him without a second thought."

-Alice Rohrwacher- 
How does evil come about?
Lazzaro discovers evil and gradually comes to understand it. He simply can't comprehend it at the beginning. His attempt to understand evil tends to support the thesis that humans learn to behave badly. It isn't necessarily an intrinsic part of human nature.
On the other hand, the film shows that the rejection of evil is something that belongs to both man and animal. In this case, a wolf. For Lazzaro, the wolf contrasts with man, because it doesn't do him any harm. In fact, it protects him.
This contrast introduces the concepts of man's natural passions and instincts, such as protection, friendship, laughter, the pursuit of natural pleasures, and fidelity.
How should we respond to evil?
When the police inform the workers that they've been victims of a scam, they're doubtful and don't really understand. It seems that evil, as well as being suffered by them, has to be explained as well.
There's an obvious link between the existence of information and the knowledge of evil. Because the moment the workers are released and they travel to the city, they have to deal with a new capitalist way of life.
In order to get ahead, they have to resort to some roguish behavior. In fact, they start to deceive others. Lazzaro doesn't understand this behavior.
Several characters teach Lazzaro that evil is answered with evil. Lazzaro isn't capable of this. However, his companions have proved that they're capable of it. This alerts you, the viewer, to the power of the vicarious learning of evil and the need to go down different routes.
The relationship between evil and loss
When they incite Lazzaro to be evil, he can't do it. Because it's something completely alien and unknown to him.
When he realizes what evil entails, he falls ill. Furthermore, he gets enveloped in sadness and seems to lose his essence and natural beauty. It's as if he's destroying his own human nature.
He devotes himself to finding his friend, Tancredi, son of the marchioness. He had a real friendship with him, free from conventionalism and classism. Therefore, in an attempt to regain his essential truth and beauty, he's drawn back to his old friend. As a viewer, you become immersed in the lyricism of magic realism.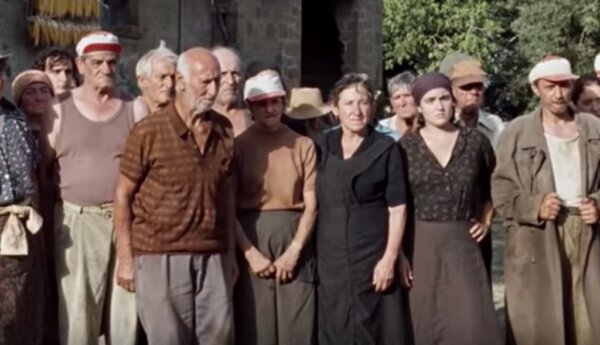 Happy as Lazzaro uses different genres
Happy as Lazzaro mixes different styles of cinema. There are elements of magic realism, like fables and Italian neorealism. Italian neorealism was a cinematic movement. It emerged in Italy during post-World War II, starting in 1945. It aimed to show more realistic human and social conditions, moving away from the historical and musical style which had previously been the norm.
Happy as Lazzaro includes the genre of fables with its mysteries, inconsistencies, and heroes and villains. The film emphasizes that the symbolism of fables isn't merely abstract. In fact, it's often present in our lives. Furthermore, if we don't pay attention to it, it becomes a reality.
Happy as Lazzaro, a masterpiece
Although it's from a different genre, like The Little Prince, this is a masterpiece. It manages to link one piece of teaching to the next without the thread ever being lost. This is something that's usually difficult to capture with real characters and a moving camera. Furthermore, there's a timeless nature to the teachings of this portrait of humanity.
In addition to the extraordinary techniques, the film has a good soundtrack. It also contains footage of the beautiful landscape between Vetriolo and Bagnoregio, near Viterbo, Castel Giorgio in the province of Terni. In the second part of the film, we also see Milan, Turin, and Civitavecchia.
The final scene really makes you think, mostly about the fact that the human race triggers and perpetuates so many evils. The events in the film provide a good example.
Happy as Lazzaro is a film that's well worth watching. In fact, it acts as a call to society to make the world a better place.
The post Happy as Lazzaro, a Film About Goodness appeared first on Exploring your mind.